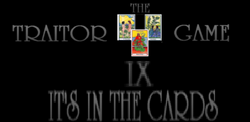 Traitor Game IX: It's in the Cards was hosted by tangentman
Glorificus (Season 5 Buffy The Vampire Slayer) & Madame Xanadu (various DC horror comics)
Glorificus inexplicably finds a way out of Hell after her death in Buffy's Season 5 finale, "The Gift". Emerging in the DC Universe, she plots a takeover of the DC Hell. Only famed cartomancer Madame Xanadu stands in her way. Xanadu and Glorificus (aka "Glory") agree to let the ninth Traitor Game determine the outcome. Glory recruits three characters to serve as her "Dark Circle", this game's nickname for the Traitors. Madame Xanadu likewise summons two characters to make up her "Sentinels of Magic", her name for the heroic Agents. A sixth player is recruited as the heroic "Agent of Chaos", or the Vigilante, while a seventh serves as the "Agent of Order", or the Tie-Breaker.
Unlike previous games, TG IX provided players a chance to save themselves from pending assassination in the form of Madame Xanadu's Tarot card readings. The readings contained cryptic clues about the next victim's identity. Players then voted for the one they believed needed salvation. One player was actually saved by a reading. This game also had an unusually high amount of survivors, as the Agents & Vigilante effectively exposed or eliminated all Traitors.
Although the game suffered from update lags, the players (especially Superheroic) worked with the host to write a finale that is still considered one of the high points of TG history. In the end, Glorificus--ever the sore loser--attempted to blow the DCU wide open to reach Hell. Several players--particularly Raven, Adelheid, Rock, Medusa, Kitty, and Captain America--fought Glory and attempted to foil her plan, with Captain America playing a crucial role. Captain America works with Xanadu to imprison Glory in Hell, essentially sacrificing his life to save the world.
This scene was referenced in the "TG Awards Thread", and was also the catalyst for Buffy Summers' participation in Traitor Game XV.
Kitty Pryde (Marvel's Excalibur, Chris Lang)
Vandal Savage (DC, Purple Skull)
Catwoman (DC, Schornforce)
Col. Saul Tigh (Battlestar Galactica [modern version], Donald M.)
Captain America (Marvel, Superheroic)
Rock Howard (Garou: Mark of The Wolves, Froggy)
Adelheid Bernstein (King of Fighters, Jeremi)
Medusa (Marvel's Inhumans, Tommy)
Raven (DC's New Teen Titans, Indigo Al)
Boba Fett (Star Wars verse, mrcelophane)
Captain Cold (DC/The Flash, Eternal Torment)
Indiana Jones (Indiana Jones Trilogy, Deadpooligan)
Willow 327 (Epic's/First's Dreadstar, Joe Acro)
Officer Jake Marshall (Phoenix Wright: Ace Attorney, Go Go Yubari)
Amazo (Justice League Unlimited, Anthony Johanson)
Darth Vader (Stars War: Return of The Jedi, darkkeeperjr)
Optimus Prime (Transformers, Kevin M.)
Megatron (Transformers: Beast Wars, Crimson King)
The Punisher (Marvel, Matt Doc Martin)
Satoru Toujou (Kamen Rider Ryuki, KamenRaider)
Majin Vegeta (DBZ, kain5252)
Yusuke Urameshi (YuYu Hakusho, Sophisticated_Gamer)
Captain James T. Kirk (Star Trek, PatrickG) (inactive player, didn't contribute beyond signup)
External Links
Edit