Sir Reginald Von Kittykins XXXVIIth, Esq.

Alter Ego

none

Occupation

millionaire kittycat

Group Affiliations

Schornforce's character pals, Pep Squad

Base of Operations

six feet under

First TG Appearance

the same as his last, Traitor Game XIX

Traitor Game History

Traitor Game XIX

Traitor Game Rivals

Aerie

Traitor Game Roles

sacrificial lamb

Powers and Abilities

dying quickly

™ / © Owner

Schornforce

Sir Reginald Von Kittykins had a VERY brief appearance in Traitor Game XIX where he was introduced among Hugh Manatee, Charlie Adder, and Doctor Snorkelpuss as helpers in the game. Kittykins was to keep track of the vote tallies. Unfortunately for the rich puddy tat, Aerie had no interest in the possibility of being killed off in the game, so she very quickly gave Sir Reginald Von Kittykins the XXXVIIth an adorable series of strokes, killing the poor rich pink millionaire feline. It was rumored that Kittykins only had three more days 'till retirement.
Sir Reginald Von Kittykins was never revived at the end of the game. Noone seemed to notice or care. He is survived by an alley cat and their litter which contains Sir Reginald Von Kittykins the XXXVIIIth-XXXXIVth.
Farewell, Von Kittykins! May a flock of angels bearing cans of tuna sing thee to thy rest.
Traitor Trivia
Edit
Although officially, Sir Reginald Von Kittykins is the 37th of his legacy, in the Traitor Game XIX Yearbook he was referred to as the 25th and later as the 35th in the signature portion. In the credits to the game, he was listed again as the 25th.
Kittykins was always supposed to die immediately upon introduction. He didn't speak, except to meow.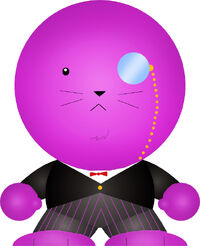 Ad blocker interference detected!
Wikia is a free-to-use site that makes money from advertising. We have a modified experience for viewers using ad blockers

Wikia is not accessible if you've made further modifications. Remove the custom ad blocker rule(s) and the page will load as expected.