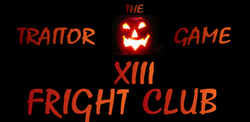 The Halloween special.
Superheroic - Ghost Rider
tangentman - Anita Blake
bigboi2 - Jason X
Tommy - Ava Moore/Goblin Queen & Adrian Moore/Goblin Prince
darkkeeperjr - Wednesday Addams
Deadpooligan - Hoss Delgado
Purple Skull - Dormammu & Umar
Chris Lang - Mina Murray
Joe Acro - Mister Bones
Froggy - Venom 2099
Schornforce - Jack Skellington
Cthulhudrew - Spike
GoGo Yubari - Tommy Dawkins & Merton J. Dingle
OverMaster - Marvel Zombies Spider-Man
hamboy - Alucard
BoosterBronze - Count Orlock
BYC - Morte
Burnsteel - Phantom Stranger
Anthony Johanson - Jackie Estacado
External Links
Edit
Ad blocker interference detected!
Wikia is a free-to-use site that makes money from advertising. We have a modified experience for viewers using ad blockers

Wikia is not accessible if you've made further modifications. Remove the custom ad blocker rule(s) and the page will load as expected.